It's not just another
Farmer's Market
by Ramona Werst on January 5, 2017
Have you ever been to a Farmer's Market?  Not only can you purchase fresh fruits and vegetables, but also other products including baked goods, fresh eggs, herbs, spices, dog treats, and much more.  But it's not just what you can purchase that makes a Farmer's Market…you can appreciate what the farmers have done and that is also worth more than you can imagine….(Read More)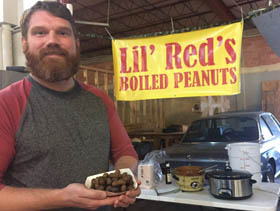 I met Michael McAndrew of Lil' Red's Boiled Peanuts.  Lil' Red's was founded in 2016 by Michael, a Southerner from the panhandle of Florida who finds it astonishing that boiled peanut stands don't line the roadsides in South Texas like they do in the Southeast. Michael is married to Lacy (the original "Lil' Red"), and together they are parents to Archer (the new "Lil' Red"), born in 2015. This family has made San Antonio home and wants to share with you their love for The Caviar of the South.
Boiled peanuts are not only delicious; they're also great for your health! The process of boiling peanuts draws antioxidants from the shells. Boiled peanuts have four times the antioxidants of raw or roasted peanuts. They're also high in protein and perfect as a vegetarian snack.
I had never eaten a boiled peanut and Michael taught me how to eat one.  After he fished some peanuts out of the hot water, he picked one up and said 'you squish the sides until it opens, then suck the peanut out and enjoy!'  I tried both the cajun and the salted.  What a treat!  They are not what I expected.  The peanuts are warm, soft and full of flavor.  I think my favorite are the cajun, so I brought some home to enjoy…next time I see Michael, I'll have to try both flavors again and bring home the salted flavor.